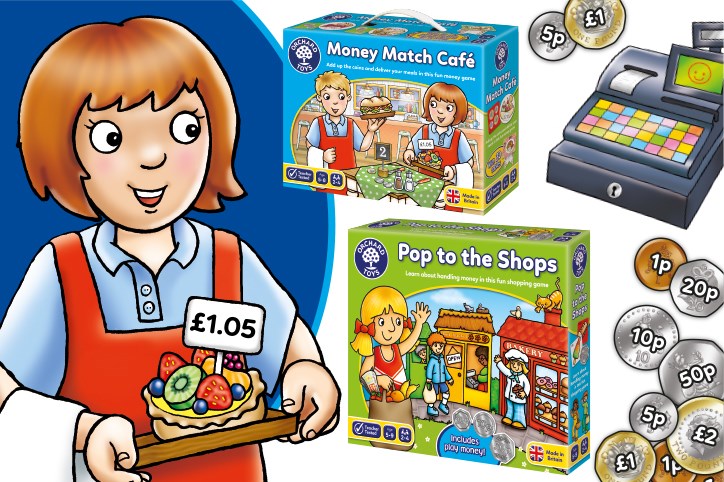 With the popularity of contactless cards and phone payments in our digital age, it is even more important for children to have practical exposure to handling money.
Learning and playing money games with their parents is the perfect way for children to learn good financial habits and the value of money. We have recently launched a new product that helps children learn about money from a young age – Money Match Café.
Money Match Café encourages children to create a café scene using their own teddies, dolls and toys and use their role play skills to count money and serve food. While playing this fun game, children will be developing their understanding of different denominations of money as well as coin recognition and addition. There are two different difficulty levels, which allows children to play with others of different ages and abilities.
One of our top ten bestsellers Pop to the Shops is a money based game where children learn about handling money and giving change as they move from shop to shop, using play money to buy all kinds of items! The most important feature of this game is that as well as teaching children how much items cost it also helps them understand that they need enough money to pay for them. The game also includes other interactive role play elements such as going to the bank to collect money and playing shopkeeper.
We also support international versions of these games, which use dollars and cents instead of pounds and pence. We believe that the familiarity of these everyday situations such as going shopping or to the café is something that really appeals to children, helping them learn in a more engaging way – wherever they are in the world.