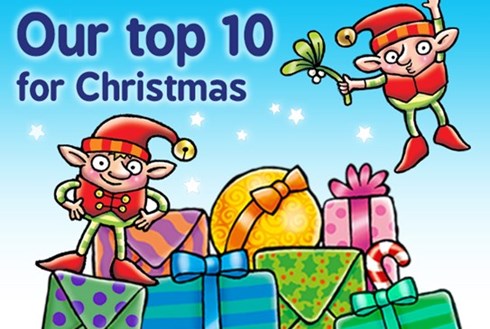 There's no doubt that Christmas is the most wonderful time of the year, but Orchard Toys can make it even more fun! 
Orchard Toys games and jigsaws will be present under many Christmas trees this year, being loved by both parents and children for their winning combination of education and fun. Our good value prices and quality products make Orchard Toys a fantastic gifting option, and our new under £5 ranges are great for stocking fillers too!
You can view our entire Christmas Top 10 right here.
Under £5 – Perfect Stocking Fillers!
Mini Games - A collection of six compact and portable games featuring quirky animal characters, perfect for learning both at home and on the move. Based on traditional favourites such as Snap, Snakes & Ladders and Dominoes, the mini games are great fun for the whole family! £4.99 each
Colouring Books - Fun colouring books featuring stickers, activities and bold illustrations of familiar Orchard Toys characters. The six books feature a range of titles children will love, from make believe characters to friendly animals! £3.99 each, 24 Pages
Just £7.50
Race to fill your trolley with Orchard Toys' bestselling, award-winning game Shopping List! This shopping-themed lotto, plus its two extras packs 'Clothes' and 'Fruit and Veg', will make the perfect present for any toddler…if you can find anyone who doesn't already have them! £7.50, Age 3-7, 2-4 Players
Pigs in Pants is a hilarious family game featuring pigs in multi-coloured, patterned pants. With children shouting "I'm going to nick your knickers!" or Granddad chanting "I'm going to pinch your pants!", this popular matching game is a steal (or should that be 'squeal'?) at just £7.50. £7.50, Age 4+, 2-4 Players
Match and Spell is a great game to get children practising their phonics and word building! Featuring bold illustrations of simple words, the game can be played in two ways – appealing to different levels of ability as children progress. £7.50, Age 4+, 1-4 Players
Farmyard Heads and Tails is a fun matching activity that develops into a game as children grow in confidence and ability! Featuring twelve colourful farm characters and objects to match, the game is great to introduce first gameplay and turn taking. £7.50, Age 18m+, 1-4 Players
Once Upon a Time is a great first jigsaw for toddlers. The collection of six 3-piece jigsaws features magical characters from popular tales which children will love! These wipe-clean, sturdy puzzles are perfect for little hands. £7.50, Age 2+, 6 x 3 Pieces
Under £10
For conscientious parents looking for presents that are both educational and fun, What's The Time Mr Wolf? is a great board game to develop analogue and digital time telling skills. Race round the board matching the times – but watch out for the hungry wolf! £9.50, Age 5-9, 2-4 Players
Woodland Party is a colourful 70-piece jigsaw, depicting an enchanted woodland with lots of familiar characters and magical animal friends children will love! £9.75, Age 4-7, 70 Pieces 
Pirate Snakes and Ladders & Ludo features two classic family games in one! Old favourites Snakes & Ladders and Ludo are given an exciting pirate twist on this double-sided playing board, perfect for getting the whole family playing together this Christmas! £9.50, Age 5-9, 2-4 Players
Under £16
Giant Road is so much more than just a jigsaw puzzle! This cleverly designed interlinking jigsaw can be pieced together in numerous road layouts so children use their imagination and creativity to build a different road every time! Children can add their own cars and characters for extra play value. £13.95, Age 3+, 20 Pieces
What a Performance is an action-packed game, ideal for getting the whole family laughing! If a player can't perform an action before the timer runs out, they must use the magic decoder to reveal the hidden forfeit! £15.95, Age 5-adult, 2-4 Players