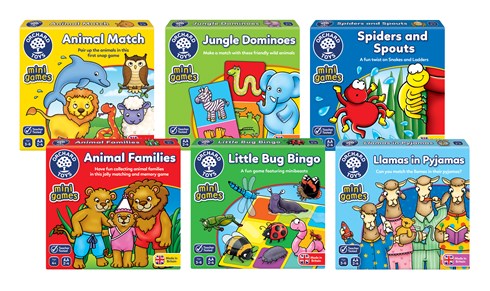 We have launched six new lines to our popular mini game range. Based on traditional family favourites, the range gives classic games, from snakes and ladders to happy families, a fun 'Orchard Toys' twist!
Launched last April, the original six mini games have seen huge success due to their year round versatility as pocket money toys, summer travel games and stocking fillers. We hope the new range will mirror this success.
Llamas in Pyjamas is a matching game featuring quirky llama characters dressed in pyjamas. Players must build as many llamas as possible before the sleeping llama picture is completed! Age 3-6
Little Bug Bingo is a colourful minibeast bingo game for ages 3-6. This fun bingo game features both familiar and unfamiliar bugs children will enjoy learning and identifying, from ladybirds and bumblebees to water boatmen.
Spiders and Spouts is a fun, spider-themed snakes and ladders game for ages 4-6. Great to take out and about, the game features colourful characters from the popular Insey Winsey Spider nursery rhyme.
Animal Families is a fun matching and memory game, based on the classic game of Happy Families. Designed for children aged 4 and above, players must collect three sets of friendly animal families to win the game.
Jungle Dominoes is a colourful domino game for ages 3-6. Featuring friendly jungle animals from elephants to tigers, this fun game is bound to be a hit with children and families alike.
Animal Match is a fun animal snap for ages 3-6. Snap is a classic game which the whole family can enjoy, and the friendly animal characters make it even more appealing to all ages.