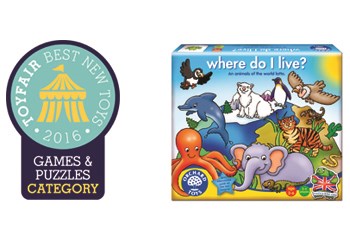 We're delighted to have won Toy Fair's Best New Toy Award in the 'Games and Puzzles' category for our new animal lotto game Where Do I Live?.
We were up against some strong competition with other fantastic products to win this prestigious toy trade award! The award was voted for by key players in the toy industry, and we're honoured to have been recognised amongst other fantastic brands.
We had a lot of fun showcasing this, and our other fabulous new lines, at London Toy Fair earlier this week!
You can check out our whole new range, including Where Do I Live?, right here.