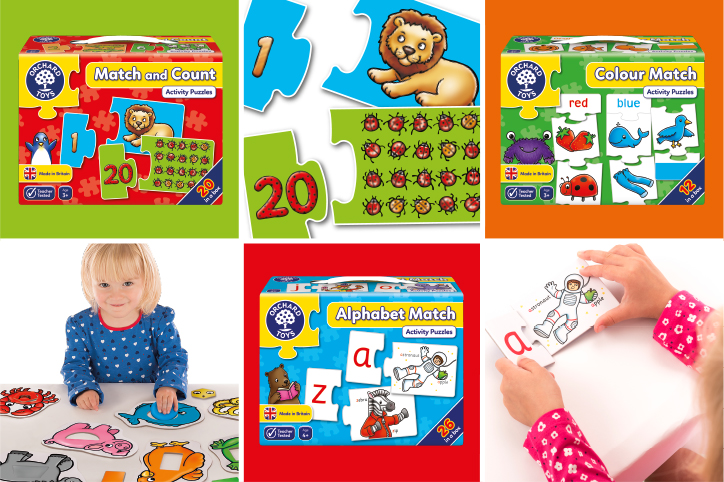 Four fun activity jigsaw puzzles to help teach pre-schoolers key early learning skills such as colour recognition, counting and alphabet skills.
Within our varied range of jigsaw puzzles is our collection of activity jigsaws, which are perfect for practising colour and shape recognition, counting and alphabet skills! This collection of puzzles are unique in that there's no tricking them, only the correct pieces will fit together! This encourages children to self-correct as they attempt to complete them - children won't even realise they are learning as they piece together these colourful puzzles.
Colour Match is a funfilled collection of 12 jigsaws that encourage children to learn colours by matching the familiar items on 5-piece jigsaws. Children will learn by looking at the friendly and colourful characters, ranging from pink pigs to purple monsters! Each puzzle includes the written form of the word to encourage letter recognition and spelling skills.
This collection of 26 2-piece puzzles encourages children to match pictures to letters. From a jester juggling jelly to a zebra zipping up a zip, this activity puzzle is a great way to make practising letter recognition and literacy skills fun!
Make learning to count from 1-20 fun with this first counting activity puzzle! Each puzzle is made of two pieces – one half shows the written number and the other half shows friendly animal characters.  Children can be encouraged to count the animals aloud as they match the two pieces and complete the puzzles.
Animal shapes is an activity jigsaw designed to help teach shape and colour recognition. Young children will enjoy matching the shapes to the friendly animals. Includes simple shapes from circles and squares to more challenging ones such as stars and pentagons. Once children have completed the puzzles they can be encouraged to say the name of each shape aloud.
Click here to see our full range of jigsaws.