All of our games and jigsaws are designed with education in mind, working in conjunction with teachers, nursery professionals and children themselves to ensure they maintain the perfect balance between educational benefits and play value. We focus on a number of key learning skills, from specific goals such as learning different colours or counting, to more general life skills like turn-taking, social skills and hand-eye coordination.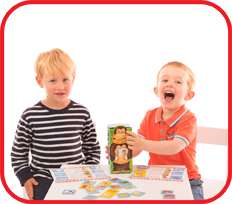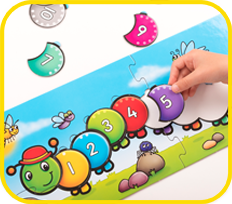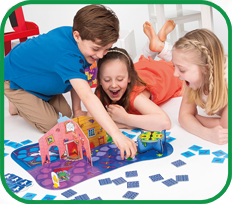 It is incredibly important to us that parents see their child developing and learning with a smile on their face. While they play with our products, children won't even realise they are learning…about language and literacy, numbers and counting, matching and memory, shapes and colours, sharing and fair play. They can play with pirates, fairies and footballers; they can pop to the shops, fly dragons and race to the moon. They'll meet greedy gorillas, pigs in pants and crazy chefs. And most importantly ...they'll be having FUN!
All of our games and jigsaw ideas are conceived in-house by our very talented design team. This small but innovative team creates the game play, draws the illustrations and designs the packaging for every single product.
Throughout this process, the team spends a great deal of time testing game ideas with children using prototypes and observing how children naturally react to the games. This helps them to check that the game play works, is educationally beneficial and aimed at the correct age group. Our designers also test for the all-important fun factor – they can tell if the game is a success by the happy, smiling faces! We pay attention to the little details, and won't stop testing until we get it right.