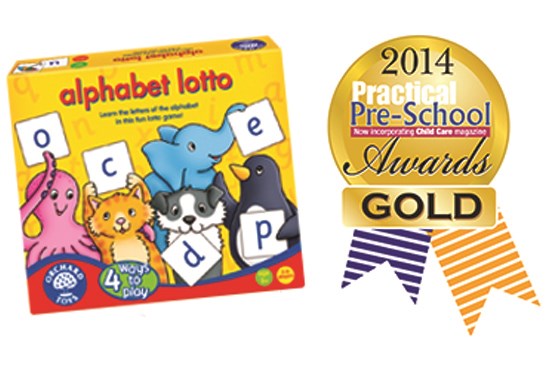 Orchard Toys have done it again! Another winning product – this time our wonderful Alphabet Lotto game has won a prestigious gold award from Practical Pre-School Magazine!
Judged by an independent panel of testers, including childcare professionals and children, each game is marked against a pre-defined set of criteria. An important part of the process is how children themselves enjoy the game, and Alphabet Lotto is so much fun that children don't realise that they are learning while they play.
Alphabet Lotto, as with all Orchard Toys products, is beautifully illustrated in bright colours. It helps children become familiar with the alphabet as well as phonics and sounds; younger children can match pictures, while older children can play by matching the letters. The playing boards are double-sided, giving lots of different ways to play, as well as plenty to talk about. A real winner for children aged 3 and over.