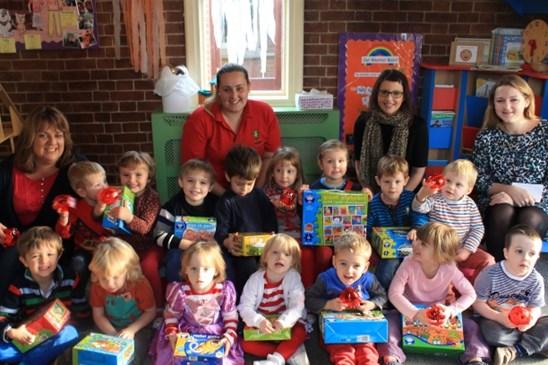 For many years now, Orchard Toys has been proud to support East Anglia's Children's Hospices (EACH), and we were delighted to collaborate with them on a fun fundraising project with local nursery schools – The Porky Piggy Project.
Orchard Toys distributed little piggy banks to participating nurseries, and children were asked to fill them with money donated by family and friends in return for carrying out simple, helpful jobs. They also had to give their piggy a name; when the piggy banks were full, they were returned to the nursery, where all the money was counted and donated directly to EACH.
The nursery which raised the most money won £100 worth of Orchard Toys products, while the piggy with the most original name from each school also won a prize for its owner.
More than 135 children adopted a piggy, and they enjoyed baking cakes, helping around the house and carrying out small chores for their families in order to fatten them up.
Lara Carver, EACH Norfolk Fundraiser, said: "The children taking part really rose to the challenge of filling up their piggies, and it was such a great way for them to support their local children's hospice."
The children must have worked very hard, too, as the total sum raised was a very impressive £493.38, with The Mulberry Bush Nursery in Wymondham, raising the most and winning £100 worth of Orchard Toys games and jigsaws.
Ros the Manager Mulberry Bush Day Nursery commented, "It was a great initiative that both parents could manage, and that the children had lots of fun doing. We were also able to have discussions at nursery about their Piggy names and the jobs they had done at home. It was great for us to be able to support such a fantastic local charity."