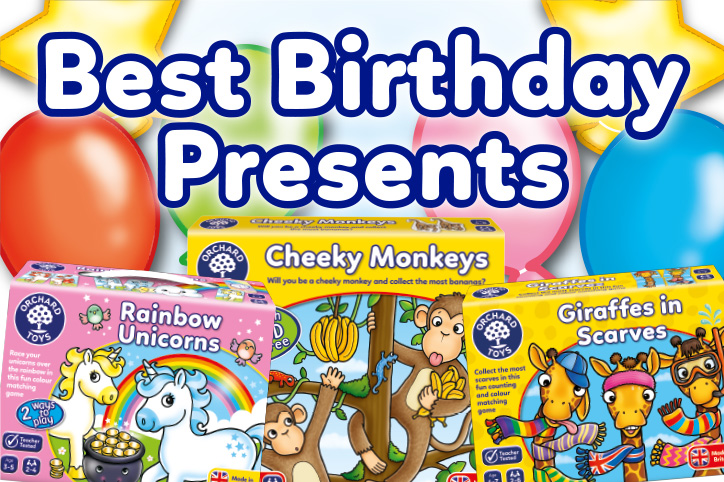 Shopping for the perfect gift can often seem like an almost impossible task, especially when there's so much to choose from! Whether it's for a son, daughter, niece, nephew, grandchild or another child in your life, here are some of our best games and jigsaws for birthday presents and gift ideas!
Farmyard Heads and Tails 18 Months +
This simple farmyard-theme matching activity is the perfect first game for children. It features 12 adorable farm characters for children to pair up and it can be used as a simple matching activity before evolving into a fun-filled first game. Click here to view a fun jungle version.
These quirky monster characters in this fun and simple matching game are sure to have children laughing. Watch closely as you take turns to find matching pairs of wellies for your gooey monsters!
Rainbow Unicorns 3-5 Year Olds
This magical game is perfect for any young unicorn lover! Gallop over the rainbow towards the pot of gold by matching unicorn heads with tails in this fun colour matching game. Features adorable unicorn characters that children will love.
Young spellers will enjoy this first reading and spelling game. Players take turns to find letters to spell words in this fun single player activity or multiplayer game. With two levels of difficulty this game is perfect for siblings to play together and is great for children preparing to start school!
Young dinosaur fans will enjoy discovering a prehistoric world as they complete this 50-piece shaped jigsaw puzzle. There's lots to see as they discover diplodocus, t-rex and lots of other dinosaur friends, meaning children will reach for this puzzle time and time again!
Giraffes in Scarves 4- 7 Years
Children will be keen to build the tallest giraffe in this fun counting and colour matching game! The hilarious giraffe characters, simple gameplay and the fact that this game can be enjoyed by up to 6 players makes it great fun for all the family.
Players battle it out to collect the most bananas in this fun game of chance – but watch out for other players trying to steal them! The 3D tree adds a fun element to this exciting game that's filled with anticipation.
Spark children's imaginations as they battle it out to save the city in this fun-filled board game! They'll need to think of ways to defeat evil unicorns, outwit zombies or escape giant slugs as they master times tables from 2 to 12! Then turn over the boards for Multiplication Bingo – with two games in one there's lots of fun to be had!
Budding explorers can see the world with this detailed 150-piece puzzle. From the Sydney Opera House and the Taj Mahal to the Pyramids of Egypt and the Great Wall of China, there is lots to discover. Also includes a giant poster for added value.
These are just a few of our top recommended games for birthday gifting but why not click here to see our gift shop and don't forget your birthday card… download your own make and create birthday cards here….!