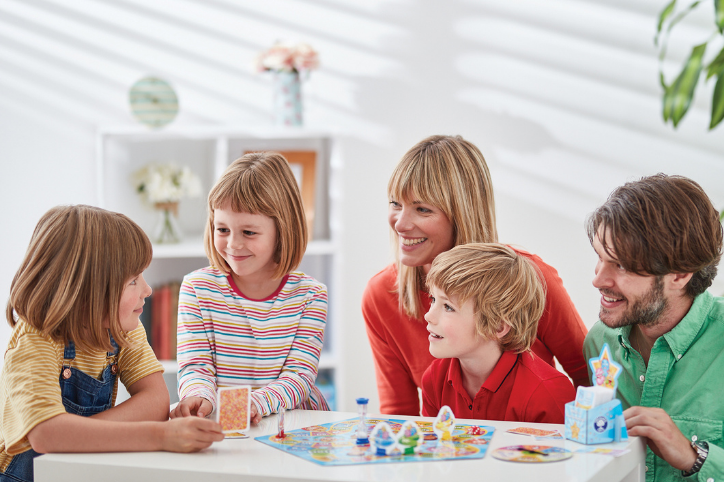 What's Christmas without a board game? We've put together a list of some of our top family games – whether it's in the run up to Christmas or on the big day, these games are a great way to get the whole family involved!   
What a Performance – 2 + Players
Be a star and rise to the challenge in this all-action game of family fun! Can you talk like a pirate, pretend to be a drummer or cross your eyes? If you can't, use the magic decoder to reveal your hidden forfeit. There's lots of fun and laughter to be had as you race around the playing board in teams or individually! Friends and family from around the world could even join in via video call!
Christmas Eve Box – 2- 4 Players
Spread some festive cheer with the Christmas Eve Box! Featuring a game and a jigsaw puzzle it's perfect to get the whole family in the Christmas spirit. Players race to find all the items on their Christmas list and fill their stocking in the Shopping List-style matching and memory game! Then have fun spotting the items on your list in the 20-piece jigsaw puzzle - there's plenty to see and talk about! 
Spotty Sausage Dogs – 2-6 Players
Spotty Sausage Dogs is sure to provide lots of fun and laughter as children play to build their sausage dog – but it's not the player with longest sausage dog that wins the game, it's the one with the most spots! The quirky characters and engaging gameplay make this the perfect family game!
There's no hanging about in this fun game of chance for all the family! Battle it out to collect the most bananas in this fast-paced game -  but watch out for other players trying to steal them! Children will love hanging their monkeys from the 3D tree which adds to the fun of the game.
Snakes and Ladders and Ludo – 2-4 Players
Choose between Pirate and Fairy-themed snakes & ladders and ludo 2 in 1 sets! Each game has a fun Orchard Toys twist and offers fantastic value in one box! You can't beat the traditional favourites and these games are a great way to get family members of all ages involved!  
If there's one thing we know for sure about this Christmas, it's that you can never go too far wrong with a board game. Click here to view the range