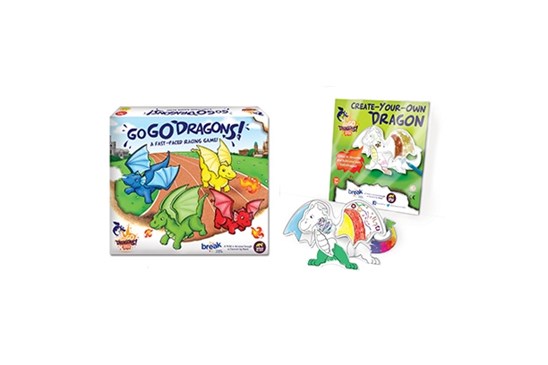 With almost 200 dragons of various sizes coming to spend the summer in the streets of Norwich this year, the GoGoDragons! project certainly looks set to brighten up the city.  
GoGoDragons! is an exciting project which will be enjoyed by thousands of visitors to Norwich, while raising funds for the Norfolk charity Break, who support vulnerable children, young people and families across East Anglia.
Break is a registered charity set up to change young lives; they look after young people in care and children and young people with disabilities. They offer family support, and they also provide assessment and support services to children at risk.
As well as our own special Orchard Toys dragon, who is being lovingly prepared by the our Design team before joining his other dragon friends in the city, Orchard Toys and Break have been working together to create special GoGoDragons! products, with proceeds from every sale going directly to Break.
We have GoGoDragons!,  the fast-paced colour racing game for the whole family, priced at £9.50; and you, too, can Create Your Own Dragon for just £3.99. You can buy both of these special products here, and help Break to raise much-needed funds at the same time!