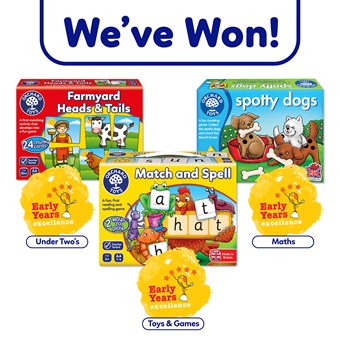 We are absolutely delighted to have won in 3 different categories in the Early Years Excellence awards! These included a 4* award in the 'Under Twos' category for Farmyard Heads and Tails, a 4* award for Spotty Dogs in the 'Maths' category and a 5* award for Match and Spell in the 'Toys and Games' category.
Products were judged on their educational value, cost and capacity to withstand the rigours of use in a busy early years setting.
The Early Years Excellence awards (founded by Teach Early Years magazine) were newly launched this year to celebrate exceptional educational products that can be used in a nursery/childcare setting. However, they have already built up a prestigious name for themselves, with products being judged by renowned educational and early years professionals.
We are proud to add the Early Years Excellence award stamp to our collection and hope to add many more awards to our range over the coming years.