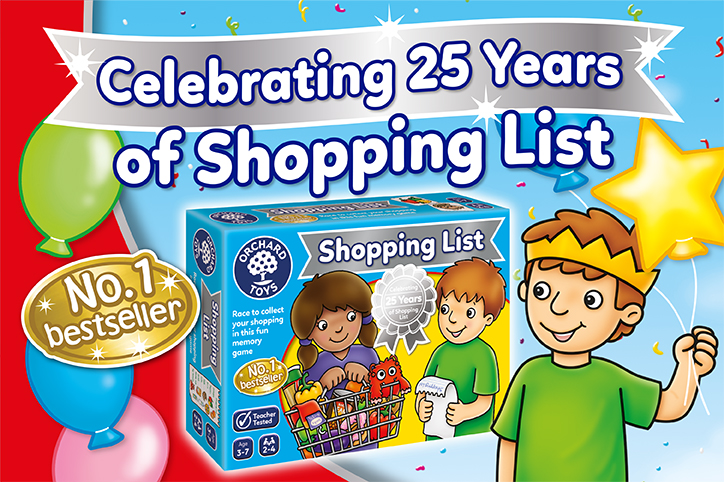 This October we're celebrating 25 years of Shopping List – our bestselling game! With one being sold every 5 minutes, it's no surprise that it's been top of our bestseller list for 15 years.
In case you aren't familiar with it, Shopping List is a matching and memory game where players race to be the first to fill their playing boards by collecting the items on their shopping list. It's simple, yet effective and it's a great way to get little ones talking about different types of food!
Over the past 25 years the game has had not one, not two but five exciting makeovers! The food cards have evolved to reflect changing tastes – for instance at some point the decision was made that maybe Bovril wasn't top of everyone's shopping list and it was replaced with the nations favourite takeaway – pizza!
Shopping List Extras packs are a great way to add to the fun – they include fruit and veg and clothing items and mean that up to 8 players can join the game.
Shopping List has been enjoyed by children far and wide – it's sold in over 40 countries! We also know that Shopping List has been passed down from generation to generation with many parents who played it as a child playing it with their own children now.
To celebrate 25 years of Shopping List, we're giving you the chance to win one of many £50 vouchers! All you have to do is enter the competition by clicking here. You could also have fun making your own shopping list with this free, downloadable template.