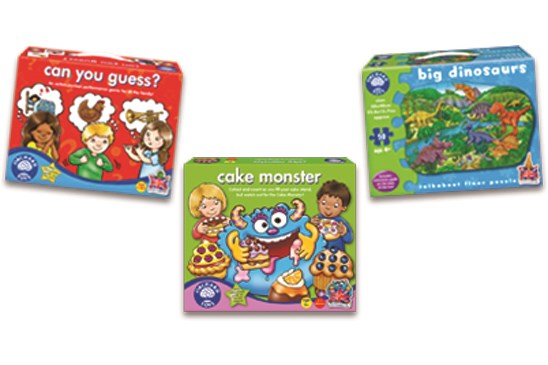 We have launched two excellent new games and a fun jigsaw, just in time for Christmas.
Can You Guess? is an action packed game where players make sounds and perform actions, which the other players have to guess.  Confident children can show off their acting skills, while those who are a little more shy, will grow more comfortable being the centre of attention.
The game is sure to provide lots of family fun and laughter and is set to be a firm favourite! Can you Guess is suitable for children aged 4 – adult, and can be played by up to 4 players or teams.
Cake Monster is designed to help children with number recognition and counting skills by encouraging them to pick cakes with the correct number of toppings on, to fill their cake stands.  With two ways to play, the game can grow with the child as they develop, giving excellent play value for 2 – 4 players. This fun cake game is suitable for children from age 3.  
Big Dinosaurs is a 50-piece jigsaw depicting an array of dinosaurs in a lush, prehistoric setting. Children are fascinated by these creatures and the colourful illustration offers much to talk about, as well as helping hand-eye coordination.