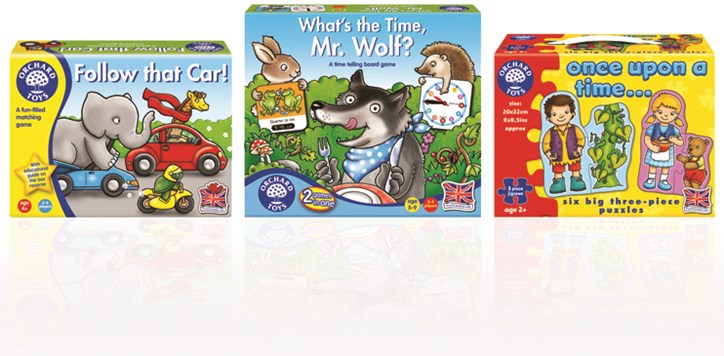 With the festive season fast approaching, what better time is there to play a fun family game or jigsaw? We're celebrating by launching three fun new products for Autumn. As always, the emphasis is on "Learning made Fun", and children will enjoy playing the games and piecing together the three-piece jigsaws time and time again! 
For conscientious parents looking for a game that is both educational and fun, What's The Time Mr Wolf? is a great board game to develop analogue and digital time telling skills. Players must race around the board matching the times to the central clock – but watch out for the hungry wolf! Age 5-9, £9.50 
Follow That Car is a fun transport-themed matching game which can be enjoyed by all the family! Build a road by matching either the colour, animal or vehicle type. However, watch out for roadblocks, which other players can put down to block your path! Age 4+, £7.50
Once Upon a Time is a great first jigsaw for toddlers aged 2 and above. The collection of six 3-piece jigsaws features magical characters from popular tales which children will love, from Goldilocks to Red Riding Hood! These wipe-clean, sturdy puzzles are perfect for little hands and are only £7.50.