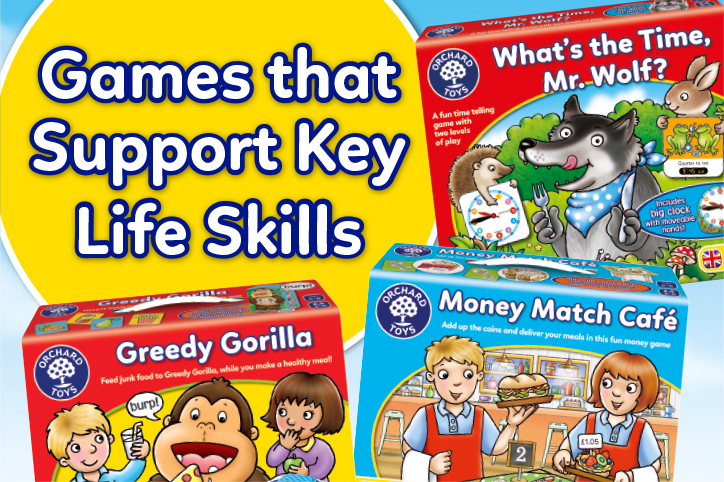 Games are a great way to develop educational skills such as spelling and numeracy, but they are also perfect to help children to learn about key life skills in a fun way. Read on to discover how Orchard Toys games help children with these fundamental skills.
Develop Money Skills
In an age of cards and contactless payments, children are interacting less and less with coins and notes. Handling physical money is a great way to help children to understand the value of money and the concept that different coins have different values. Playing games can be a great way to encourage conversations about how people have to work to earn money and how everyday items that children might take for granted all cost different amounts.
Money Match Cafe encourages children to play waiter by serving different tables and adding up coins to make sure they match the price of the meal. Pop to the Shops encourages children to buy and sell items; moving around the board they will be encouraged to ask for items in shops and learn about the different values of goods. Both games encourage children to use their role play skills, boosting confidence and making learning even more fun and engaging – children are sure to have fun pretending to be grown ups! Click here to read our blog post about The Benefits of Teaching Children About Money
Develop Time Telling Skills
Learning to tell the time is one of the key milestones of growing up and being able read both digital and analogue clocks is a fundamental skill. What's the Time Mr Wolf? encourages children to match digital and analogue times and also includes a giant clock face with moveable hands which can be used independently to the game. Learning how to tell the time requires practise and repetition and playing games is a great way to make it fun!
Understanding Healthy Eating
Speaking to children about healthy eating from a young age is a great way to guide their choices and will help them to develop habits that will benefit them throughout their lives. Greedy Gorilla makes learning about healthy eating fun; the cards are colour coded for healthy and less healthy items and children will have lots of fun posting the cards into the 3D gorilla's mouth! Once the game is complete children can be encouraged to talk about the different food items.
Develop Personal and Social Skills
Games give a fantastic opportunity to develop interpersonal skills. Interacting with others in a relaxed and informal environment can be therapeutic and encourage confidence. It also allows a child to learn about important social skills such as turn-taking and sharing as well as how to deal with winning and losing, all vital skills that will help them throughout their life.
Whilst children can initially be introduced to these skills when they are young, they're skills that they'll carry with them for the rest of their life. Children will use these skills day to day so an understanding of these fundamental life skills from a young age is certainly worthwhile!