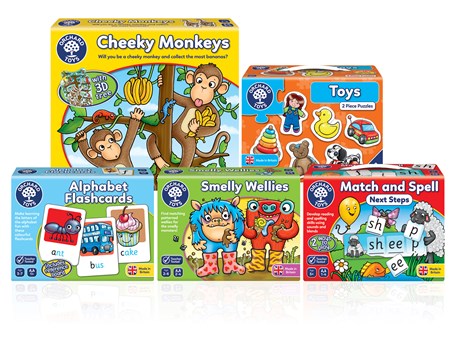 We have launched an exciting new range of games and jigsaws. These provide the perfect mix of learning and laughs for children as young as 18 months up to primary school age! 
Cheeky Monkeys is a fun game where there's no hanging around as you battle to collect the most bananas – but watch out for other players trying to steal them! Players must make strategic decisions by choosing whether to play it safe after their first turn or spin the spinner to either collect or risk losing more bananas! Children will enjoy hanging their monkeys onto the 3D tree.
Smelly Wellies is a fun and simple matching game for children aged 2-6, where players turn over welly cards to find matching patterned wellies for their monsters. The quirky monster characters are bound to get children giggling! There are two ways to play this colourful game, for both younger and more advanced players.
Toys is a great addition to Orchard Toys' pre-school jigsaw range, featuring six large, 2-piece jigsaw puzzles for age 18 months and over. These depict familiar first toys children will love, including a teddy bear, a doll and a toy car. The colourful puzzles are great to engage early learners and the sturdy material is set to last the wear and tear of little hands!
Match and Spell Next Steps is the perfect progression from Orchard Toys' fastest selling game Match and Spell. Aimed at children aged 5 and over, Match and Spell Next Steps helps to develop more advanced reading and spelling skills using both sounds and blends. This fun game features double sided boards, meaning it can be played in two different ways to extend learning. 
Alphabet Flashcards introduces children to the letters of the alphabet in a fun way. With colourful, friendly illustrations and a double-sided card for every letter of the alphabet, Alphabet Flashcards are the perfect tool for conscientious parents looking to teach children their ABC's and first words.