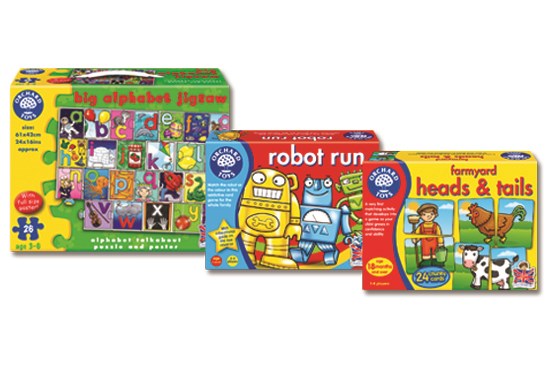 Our design team has once again been working hard to bring you some new must-have games and jigsaws.
Big Alphabet Jigsaw is a 26 piece chunky jigsaw, each showing a different letter of the alphabet, with fun, colourful illustrations.   The jigsaw comes with a full-sized matching poster, which can be used as a guide or displayed.
As well as teaching letter recognition and manual dexterity, there are ideas on the reverse of the box to promote discussion with children talking about the interesting characters and objects. The large format jigsaw is suitable for children aged 3-6. 
Farmyard Heads and Tails is a really simple game, which toddlers from just 18 months old can enjoy on their own or with other players. Featuring twelve farm characters and objects to match, the game encourages observational and memory skills whilst introducing very young children to the concept of turn-taking!  The big, wipe-clean cards are ideal for little hands.
Robot Run is an addictive family game, which involves players taking turns to match their robot cards by type or colour with the last card played.  The winner is the first person to play all their cards. Deceptively simple, this is a game, which the whole family will want to play again and again! Suitable for age 3 to adult.