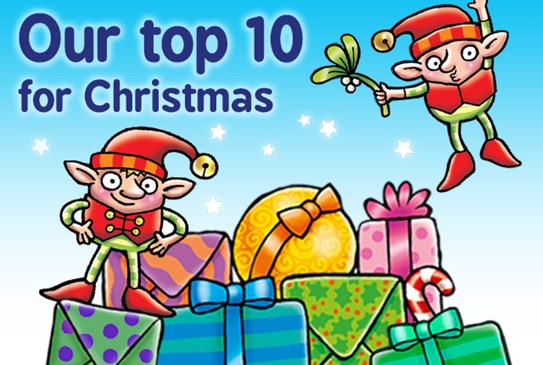 It's time to start dusting down the tinsel and prepare for our favourite season!
We've come up with our Top Ten suggestions for Christmas. Many of these games and puzzles will be perfect for a social get-together with the whole family.
Top 5 Games
Shopping List is once again our best seller. With a new look for 2015, this is the perfect stocking filler or Christmas gift – if you can find anyone who doesn't have it yet!
Can You Guess? is a great game for family occasions, involving lots of noise, silly actions and laughs as players try to guess the sounds or actions made by the other players.
Pigs in Pants is another hilarious game featuring pigs in multi-coloured, patterned pants. With children shouting "I'm going to nick your knickers!" or Granddad chanting "I'm going to pinch your pants!", this popular game will have you all 'squealing' with laughter!
Where's My Cupcake? is a great stocking filler for your little baker in the making! This matching and memory game is a great social activity for all the family, where good manners are rewarded with imaginative treats.
What a Performance is another action-packed game, where players or teams work their way around the board and follow the instructions on the cards. If they can't perform the action before the timer runs out, they must use the magic decoder to reveal the hidden forfeit!
Top 5 Jigsaws
The Giant Road Jigsaw is so much more than a jigsaw puzzle! The 20 interchangeable pieces can be put together in numerous road layouts for children to add their own cars, trains and characters for extra play value!
Big Dinosaurs is a 50-piece jigsaw for children who are looking to be transported into an exciting, prehistoric world!
Big Number Jigsaw is a bright and busy 20-piece jigsaw, featuring numbers 1-20. Children can have fun piecing together this jigsaw whilst practicing counting and recognizing numbers with the help of a fun large poster.
Big Alphabet Jigsaw features 26 colourful pieces, each showing a letter of the alphabet. With a large matching poster for use as a guide, children will soon become familiar with the letters and the sounds they make.
What Do I Do? is a collection of six, 3-piece jigsaws featuring cheerful characters and their occupations. Suitable for children from age 2+, What Do I Do? encourages hand-eye co- ordination and develops matching and memory skills.