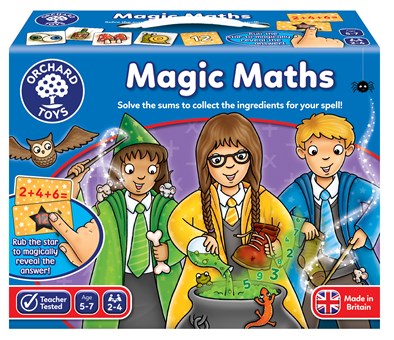 We've taken the fun magical elements of our Magic Cauldron Game and made them even better to create MAGIC MATHS! 
Magic Maths is a spellbinding new maths game from Orchard Toys, designed for children aged 5-7. Magic Maths features new gameplay, fun wizard characters and a broader range of sums, whilst not forgetting the magical rub and reveal technology of Magic Cauldron. 
Players take turns to solve the sums and fill their boards with yucky spell ingredients, from worm-infested cupcakes to brains and bogies! Once players have worked out the answer to the sum, the magic begins…by turning over their card and rubbing the heat sensitive patch to reveal if their answer is correct.
Designed in collaboration with teachers to support KS1 maths, Magic Maths incorporates a broad range of sums including addition, subtraction and multiplication. This offers a more challenging game for the intended age range.
Magic Maths features a popular wizard theme, making maths and sums a magical and enjoyable experience for children.