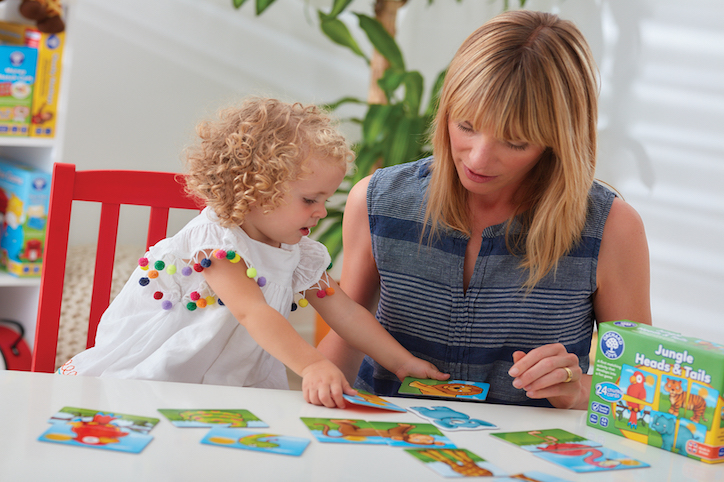 Preschool Games for 2 and 3 Year Olds
In the early years of their life children develop physical, emotional and cognitive skills that form the building blocks for their future learning and development. These include developing hand-eye coordination, number recognition and counting, developing language and basic letter recognition skills, learning to recognise shapes and colours and developing key social skills such as turn-taking and sharing. Educational games are also a great way to help children to concentrate, a skill that will benefit them throughout school!
We understand that when entertaining littles ones and making learning fun some guidance and support is always welcome, so our range of preschool games and jigsaws are designed with simplicity and fun to keep little minds stimulated. They feature colourful illustrations and adaptable gameplay that will make children want to play time and time again. The games can also be adapted as the children develop.  Take a look at our top educational games for pre-schoolers.
Farmyard Heads and Tails – 18 Months +
Children as young as 18 months can develop their matching skills with this fun farmyard-themed game. Farmyard Heads and Tails can be used as a single player activity or a fun matching game and as children match the heads with tails they can be encouraged to say the different animals and characters aloud.
Post Box Game develops colour recognition and matching skills as children post the correct letters into each post box. As they grip the letters and post them through the 3D boxes children will also be developing their hand-eye coordination and fine motor skills. With two ways to play there's lots of fun to be had!
This first colour matching game features fun and friendly characters and objects that children will recognise. As they race to fill their boards, children can develop their speech and language skills by saying or spelling them items aloud such as the 'yellow spider' or the 'green teddy'. The bold, simple illustrations are perfect for supporting the development of colour recognition and matching skills.
Smelly Wellies is a first matching game that is sure to have children laughing as they help the gooey monsters find their matching wellies. The patterns used within the game offer a slightly more challenging recognition and matching game for pre-schoolers and are perfect to encourage progressive learning with 2 ways to play.
This fun twist on a classic game of heads and tails encourages children to put their colour matching skills to the test as they race to be the first to reach the end of the rainbow. Rainbow Unicorns is a great introduction to gameplay and can be used to teach children about turn taking and sharing. As children grow in confidence they can begin to use their memory skills as they remember where cards are on the table.
The Game of Ladybirds – 3-7 Years
Children will learn to count as they match the spots and collect ladybirds in this Orchard Toys classic! As well as matching the number on the dice to the number on the cards, players will gain additional maths skills from counting all their ladybirds up at the end.
Old MacDonald Lotto – 2-6 Years
Children will enjoy matching the fun farmyard characters to their playing boards in this lotto game. As they play not only will they develop their matching and memory skills, they will also develop social skills as they learn about turn taking and gameplay. The fun farm characters give lots of opportunity for discussion before and during the game.
Children will learn about different shapes and colours as they help the friendly dinosaurs to find their spots. This game incudes 2 games in 1 – the double sided boards allow children to match by shape or colour. Dotty Dinosaurs includes simple shapes such as circles or squares and more challenging shapes such as diamonds and semicircles.
These first games and jigsaws are designed to make learning fun for both you and your child as they master some of the key early learning skills that they'll use for the rest of their lives. To view the full collection, click here.