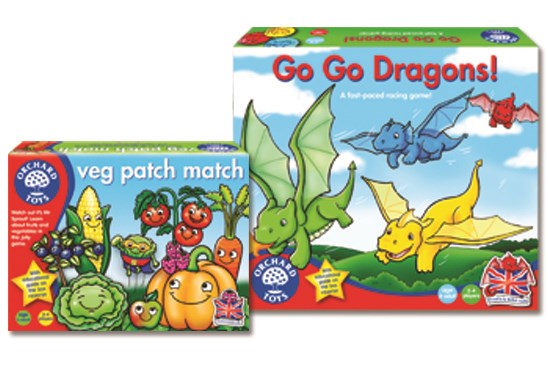 Orchard Toys have added two lines to their educational range.  The themes of both games bring increased diversity and innovative gameplay to the range.
Go Go Dragons is a game of chance, in which anticipation and excitement build as the game develops.  Players are powerless to influence the final outcome of the game and will be on the edge of their seats as they hope that the next turn of a card edges them closer to the finish line.  Suitable for children from age four.
Veg Patch Match, for children from five years, is a game of strategy, in which children try to build a vegetable patch to replicate the one in the centre of the table.  The game requires keen concentration and memory skills, as players try to collect the amusing fruit and veg characters to win the game.  If a "Mr Sprout" card is played, players shout out "Watch out it's Mr Sprout!" and the game turns on its head, as this card allows the person who plays it to change one of items in the central board, which may work to their advantage, but equally, to other players' disadvantage.